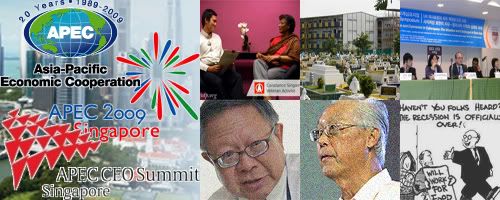 "Singapore, if you are not my country, who is?"
KJ
"..I am just concerned that as the Singapore political and historical rhetoric gets spun and respun by successive generations, Singapore's collective sense of reality would dissipate and fragment if competing versions aren't heard by the masses."
Clement Tan
"Why leave them among the dead – literally?"
Andrew Loh
"Ten years after the first opposition party went online, Singapore's opposition parties' online presence is small, its online external outreach weak and their electoral fortunes remain unchanged."
James Gomez
"Our parents lived through different times. They suffered poverty first and now prosperity. We started out with prosperty but suffer a poverty of mind."
Carpediem
This week's roundup and recommended reads after the break.

Mainstream vs X-Stream Media | Truth, Justice, and the Singapore Way
– TOC: We, the citizens of no country [Recommended]
– Asian In America: The dizzying lows of Singapore's political spin [Recommended]
– Rachel Zeng's blog: Singapore: Country or City? [Thanks Seelan ]
– The Journey of a Decade: Singapore is a CITY.. NOT a COUNTRY.. it is the truth [Thanks Benjamin]
– The Temasek Review: Why Singapore government is bruised by the world press freedom index ranking?
– TOC: Freedom Press Index divorced from reality?
– The Temasek Review: Singapore government getting cold feet over its worsening international image
– Asian in America: The self-defeating effects of fear and paranoia
– The Temasek Review: Proposal to Minister Shanmugam to increase the Singapore media's rankings
– Ian On The Red Dot: We The Citizens Of Singapore
– Readings From A Political Duo-ble: Is the RSF press ranking flawed?
– Today In Singapore: Subjective Chronicles
– Blowin' In The Wind: Tharman: Once upon a time in the West..
– Singapore Aspirations: On the rule of law
– Bryan Caplan: What's Really Rotten in the City-State of Singapore?
Road to Perdition Election
– Diary of A Singaporean Mind: To PAP : You need better MPs..
– Singaporean Skeptic: The Message the PAP is sending to us: We can pick and choose our responsibilities/policies.
– Random Thoughts Of A Free Thinker: Quick thoughts on PAP Party Convention 2009
– Who Moved My Singapore Cheese: Animal Farm – Chapter X
– The Temasek Review: PM Lee: PAP will not be "taken advantage of" again in Potong Pasir
– Simply Gab: PAP Convention: Quote of the Quotes
– Tan Kin Lian's Blog: Fourth generation leaders
– The Temasek Review: Is PM Lee looking for the next generation of leaders or sheep?
– TOC: Potong Pasir Town Council rebuts ST report
– Academia.edu: Online Opposition in Singapore: Communications Outreach Without Electoral Gain [via Jacob 69er ] [Recommended]
– The Temasek Review: An alliance between Singapore opposition parties: a dream too far? [Recommended]
– The Temasek Review: Chiam See Tong leaving Potong Pasir to fight in a GRC: A political strategy or suicide?
– TOC: Singapore Democrats call for Government to release Electoral Map
– Jacob 69er: Reform Party press release on Balldev Naidu
– Forbes.com: Five political risks to watch in Singapore
– TOC: Two Paradoxes of Singaporean Political Economy
– Gerald Giam's Blog: Grassroots advisers are not accountable either
– Jacob 69er: SDP does not exist
– The Temasek Review: SPP rebukes PM Lee's insinuation that Potong Pasir residents are "short changed"
– Gerald Giam's Blog: Stop comparing Singapore with Third world countries
– Robert Amsterdam: The Repression of Political Freedoms in Singapore: The Case of Opposition Leader Dr. Chee Soon Juan [via Jacob 69er ]
Strangers in a Strange Land
– TOC: Social isolation – left among the dead
– Balderdash: Minding the gap between THE PINK & THE BLUE
– LIANAIN FILMS: J Is For Justice… And Journalist… And Just Go Away
– Singapore Watch: SG Citizenship is worth about $7,503-$10,583 more than PRs a year
– Today In Singapore: A Bitter Fruit
– The boy who knew too much: The flight of the Malays.
– Today In Singapore: Whither The Leaders?
– The Temasek Review: Losing our national identity: Who are we?
– Because you've got all eyes on you no matter where you are: A satirical take on the foreign talent issue
The Gospel of Harry
– Today in Singapore: The Charlie Rose Show
– Singapore Recalcitrant: The Booboo of Minister Mentor Lee Kuan Yew
– Today In Singapore: How to Win Friends and Influence People
– My Thoughts..: The Evolution of a Straits Times Headline [Thanks Ganga]
– Global Times: Balance of powers in Asia is inevitable [Thanks CelluloidReality]
Housing
– TOC: HDB Annual Report : Deficit has doubled – really? [Recommended]
– Feed Me To The Fish: HDB: So where the hell did the money go to?
– The Temasek Review: HDB's $2 billion dollar deficit – More Questions than Answers
– Diary of A Singaporean Mind: HDB 'suffers' another deficit..
– The Temasek Review: Demand vs Supply: So many applicants, so few flats
Recession over?
– Blowin' In The Wind: Unemployment hits 5% among Singapore residents
– Temasek Hedge: Q3 labour numbers: Singapore's job losses continues to grow as economy 'recovers' [Thanks Bink]
– Blowin' In The Wind: Singapore productivity falls sharply, average wages drop to 2007 level
– Manu Bhaskaran: What will the economic recovery mean for Singaporeans?
Singaporeans are fed up with progress!
– Gerald Giam's Blog: Measuring economic performance: Looking beyond GDP [Recommended]
Re education
– Times They Are A-Changin': No Apology Needed..
– Singaporean Skeptic: Lee Kuan Yew was wrong.
– Toward the Green: Acidflask's Annotated Guide to Eddie Teo's Speech
– Balderdash: Eddie Teo's Defending Scholarships but not all Scholars
– My sketchbook: The elite scholar monologue
Little Green Dot
– AsiaIsGreen: Attempt to Manipulate and Confuse Public Thinking on Climate Change [Recommended]
– Tales Over Coffee: Singapore Rejects Firm Emissions Targets? What About The Elephant In The Room?
– I just don't know what to do with myself!: Letter to Andy Ho, and his response
Healthcare & Healthcare Providers
– TOC: What has Gini got to do with Medifund?
– Singapore Aspirations: On medical leave and the employee
– Jacob 69er: Singapore has health-care hurdles too
CPF
– TOC: CPF: What happened since GE2006?
ERPains, Trains & Automobiles
– Blowin' In The Wind: Six rail journeys for every 10 bus rides in Singapore
National Service
– Sam's thoughts: Dear MINDEF, please delete where appropriate: YES/NO*
ASEAN | APEC 2009
– Zach's Thought Blot: The Urgent Case for ASEAN Integration – Part One
– Simply Gab: APEC – Showcase for POA
– Hard Hitting in the Lion City: APEC Rejections
– Blowin' In The Wind: The Idea of Justice: Amartya Sen
– Asia Pacific Voices: Pacific Asia and the Asia Pacific: The Choices for APEC
Daily Discourse
– ~eternalhap~: No, this Myth is Reality
– Chee Siok Chin's Blog: Cheap petrol and no rights [Thanks Seelan ]
– Singaporean Skeptic: I love the Straits Times Forum!
– TOC: Meet the Protagonist of the YPAP Facebook Forum War
– Singabloodypore: Freedom for Sale
– TOC: And so the castle crumbles..
– Seelan Palay's Blog: Episode 2 of Singapore's 1st Internet Talkshow (Constance Singam, AWARE)
– Carpe Diem: The root of Singapore's intellectual vacuum
– Civic Advocator: Why financial assistance is not really assisting
– Musings: Bridging the Gaps: Talking About Hate Speech in the US, Canada and Singapore
– Only "objective" and "factual" political films please, we're Singaporeans: The 3 tiers of censorship in Singapore
– Tan Kin Lian's Blog: Broaden the tax base
Life, the universe and everything
– Empty Vessel: This used to be my (DIY PC) playground
– SG Fairy: The Importance of Hugging
– The Temasek Review: SPH IP address caught "grabbing" content from Temasek Review server [Thanks Alex]
– Singapore Fountain Pen: Singapore 360 – Day 18: Dining At Din Tai Fung [Thanks Major Elm]
– TOC: Human rights 101
– Empty Vessel: Chapter 2: Mr and Miss Perfect Does Not Exist
– Ian On The Red Dot: Clicknetwork.tv – I See Boobies
– TOC: Blogging Seminar videos on YouTube
Infoblogaramous
– Moving Higher In Souped-up Heuristically Agon Moment: Art Exhibition: Boundless Thoughts, Infinite Courage